Real images and animations provide an additional dimension in the Dürr communication media. Animations allow complex processes to presented in an easy and understandable way. Products and systems can be experienced on an emotional level. The films of the new Corporate Design of Dürr consist of different formats and tonalities – from emotional-advertising to factual-explanatory.

(A) Image film – This film category shows Dürr as a driver of innovation and serves the higher-level brand communication (brand loyalty). Dürr products or solutions are talked about using a story. Films or animations can be abstract, emotional, creative, entertaining, and playful.
(B) Product film – The product and its strongest benefits are in focus here. The way that functionalities and functional processes are used is presented in a simple, understandable, and objective way. Dürr competence and expertise is shown on the basis of the product presentation.
(C) Explanatory film – Explanatory films are simple, straightforward learning videos for internal and external use. They are not described further in the manual.

Effect – Each film or animation pursues a different intention and carries a different message.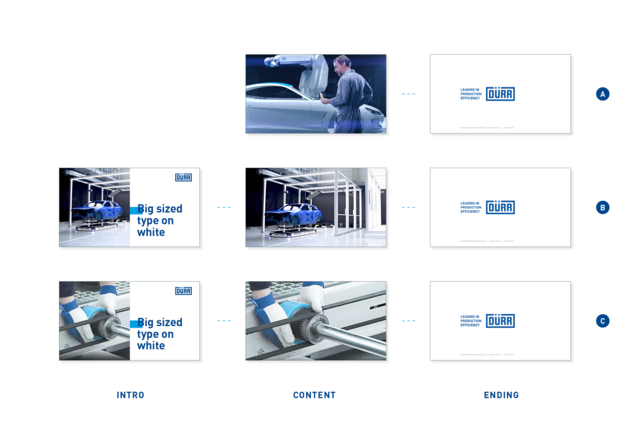 The Dürr logo is not used as a classic corner logo within the film. A logo is inserted only in the introductory animation and in the ending.
(A) Image film – Image films begin directly with the first image without a predefined introductory animation. The ending is always used at the end of the film.
(B) Product film – Product films begin with a uniform introductory animation that contains the film title and the Dürr logo at top right. Here, too, the ending is placed at the end of the film.
(C) Explanatory film – Explanatory films have the same structure as product films.
Design elements – The Dürr design elements of Big Type (A) and Re-Frame (B) also play an important role within the new Corporate Design. The Quick-Link (C), however, appears more rarely.
If text is used, it is an active and style-forming element. The Big Type is mainly used for statements, keywords, the emphasis of messages. It is used in the largest and most striking way possible. It can be set on colored full areas and, if necessary, also on image contents – where possible on calm backgrounds. It can turn itself flat to the camera or insert itself into the perspective of the space. The Big Type is mainly used in image films. The typeface is DIN Pro Bold. The font colors are preferably White, Basic Blue or alternatively Light Gray.
The Re-Frame helps guide the eyes and create a focus – on a technical detail, for example. It can initiate a zoom or accompany a camera pan. As a flat overlay, it can contain typography. The Re-Frame can also become part of the space and take on its perspective. In this way it can limit or define abstract surfaces or connect elements. It should not be used in an inflationary and haphazard manner but in a deliberately thematic way.
The Re-Frame can be animated as required, but its design should not be too busy. Only one Re-Frame should be used for each image content. The Re-Frame is applied only in the color "Digital Light Blue". Should this not work on the given image content, the Re-Frame is to be dispensed with in case of doubt. In exceptional cases, such as innovation topics, the color "Innovation Green" is also permitted.
Relation – The line thickness is proportionate to the short edge length (A), for example:
100 px edge length / 4 px line thickness
200 px edge length / 8 px line thickness
300 px edge length / 12 px line thickness
400 px edge length / 16 px line thickness
Cutting sequences/speed, transitions, and fades are not defined and depend on the content and design framework.
Labeling is implemented consistently for all information in the usual way. Dark or light text panels can be used depending on the tonality. Ideally, the background is a calm, unmoving surface. For ideal legibility, use the font DIN Pro Bold throughout.
Dark panel
Marker: 100% Digital Light Blue, fill method normal opacity
Text: DIN Pro Bold, 100% White, fill method normal opacity
Background: 80% Dark Gray, fill method multiply
Light panel
Marker: 100% Digital Light Blue, fill method normal opacity
Text: DIN Pro Bold, 100% Dark Gray, fill method multiply
Background: 100% Digital Light Gray, fill method Hard Light
The ending forms the conclusion of the film or animation. It is a fixed, unchanging element. The logo builds up, the claim is brought forward. The ending can be cut hard or used as a transition with alpha channel.
The ending is available as standard as a mov file in DE and EN.