The architecture of Dürr sites is modern, functional and open. The appearance of the buildings is characterized by the combined use of the basic colors white and gray and has clear links with engineering and technology. This ensures that Dürr sites all over the world can be identified. The interior design is inviting and encourages the sharing of ideas and a focus on work.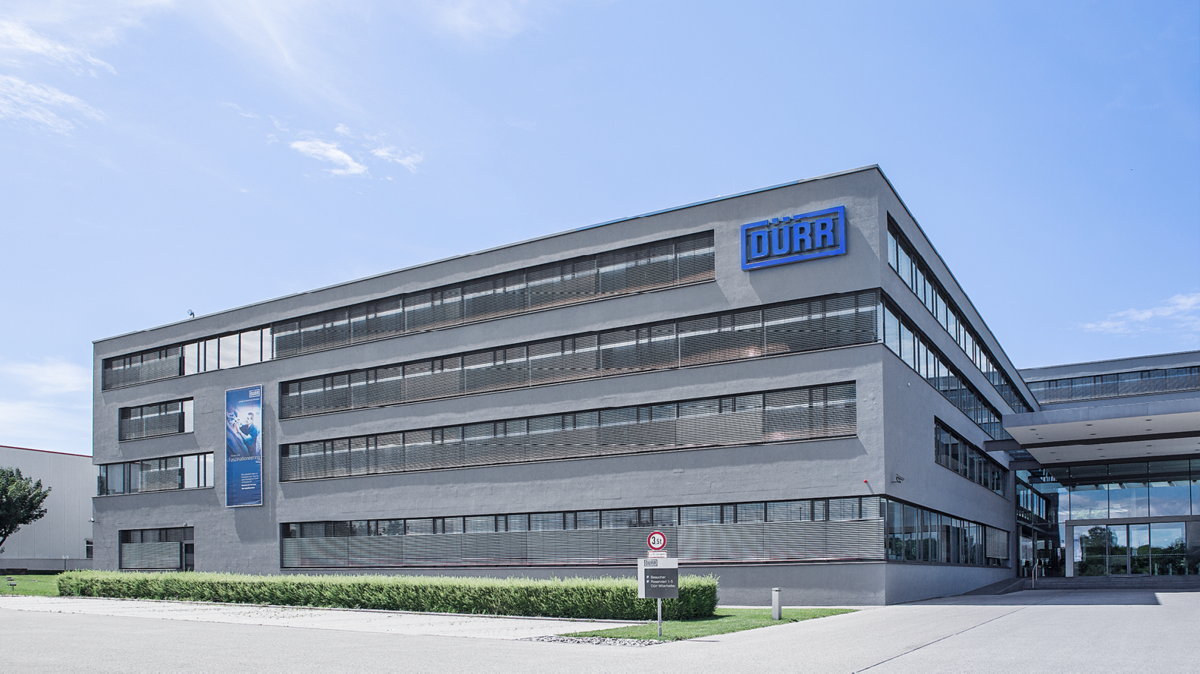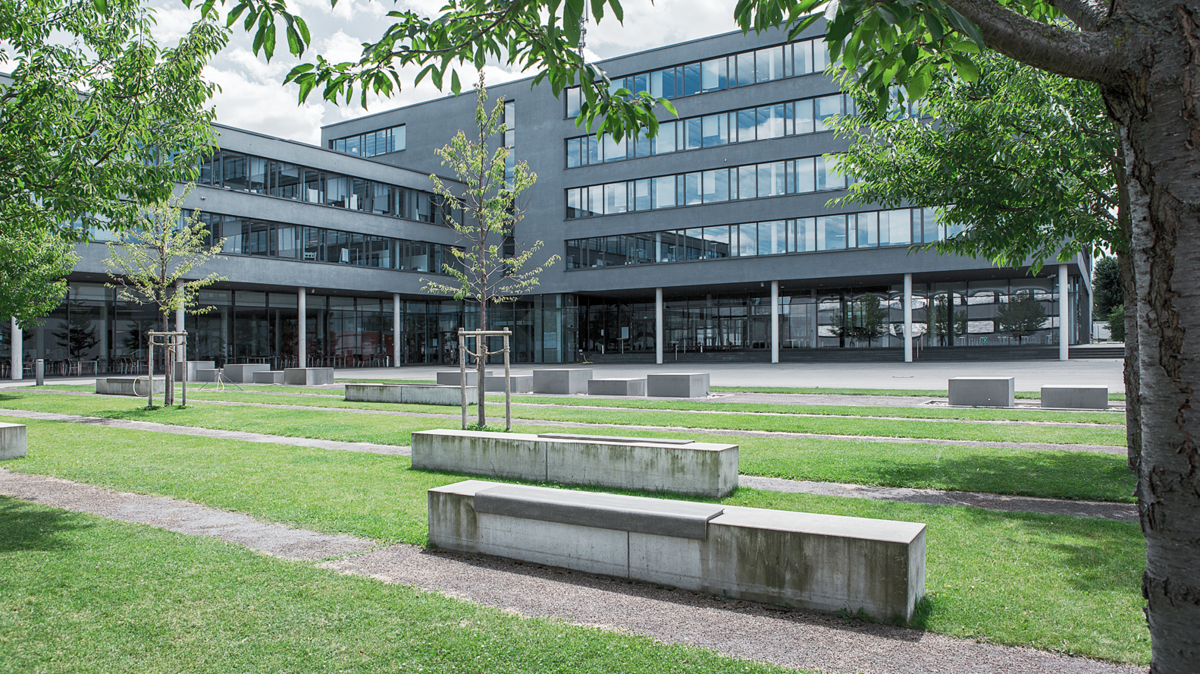 BIETIGHEIM-BISSINGEN
Germany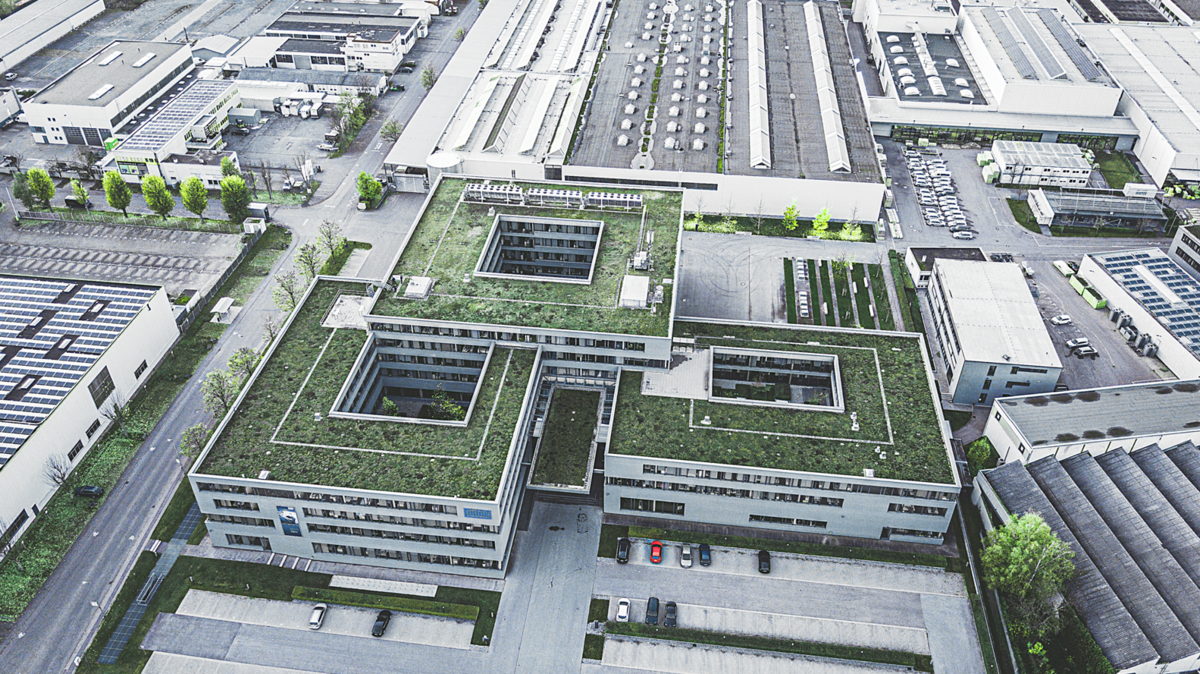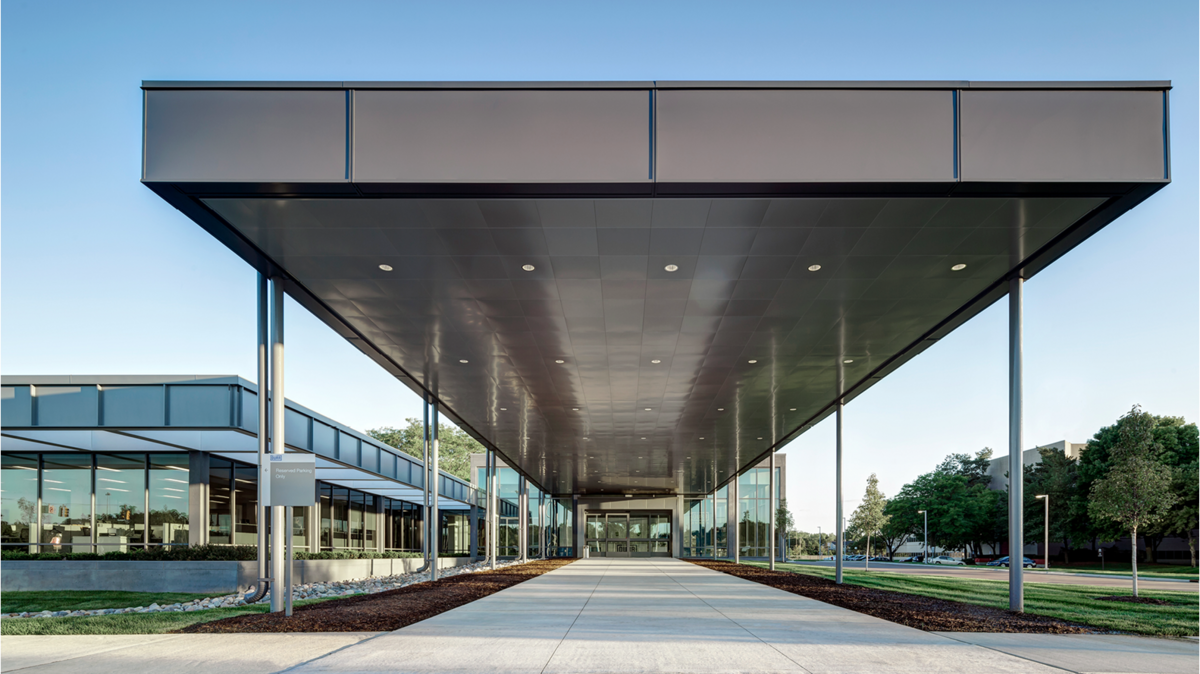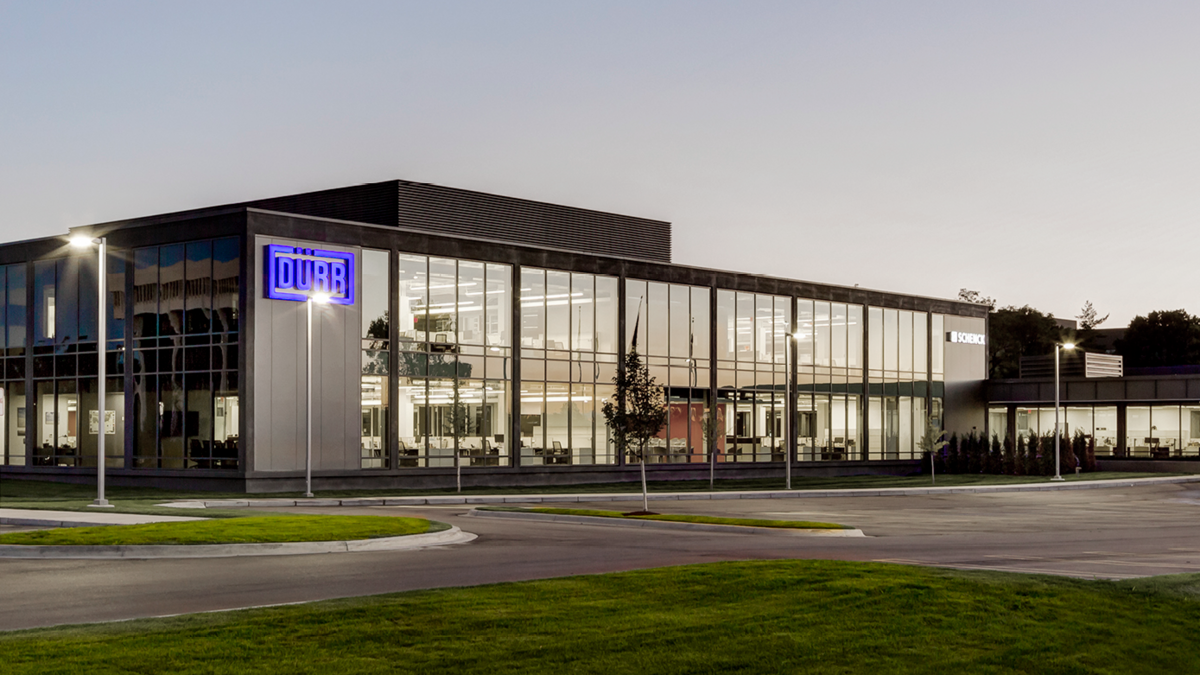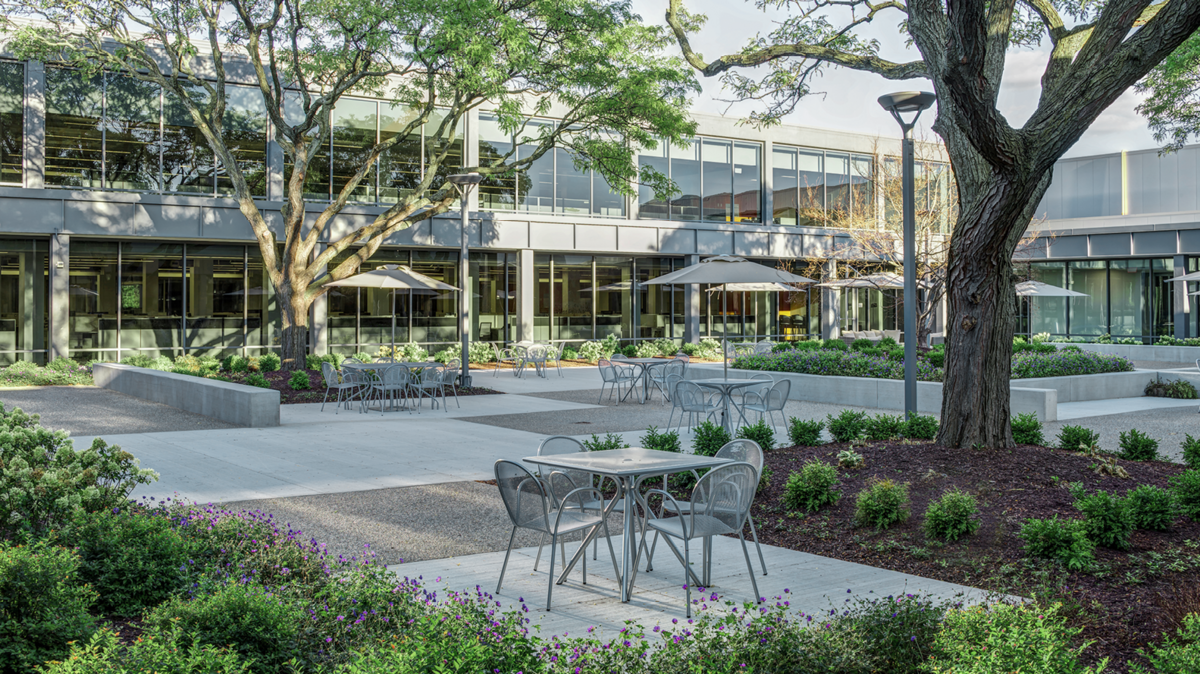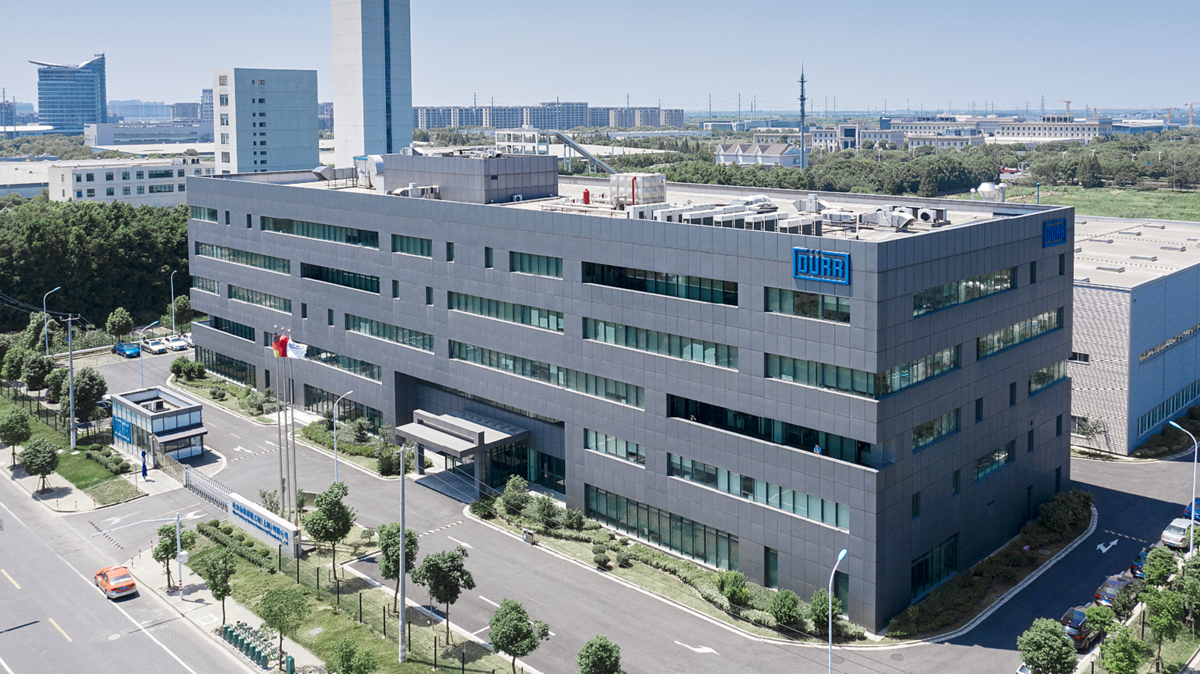 The facades of office buildings are white, light gray or dark gray. (Dark gray is only used in countries with a temperate climate). The facades of production buildings are clad with light gray metal profile panels arranged horizontally or vertically.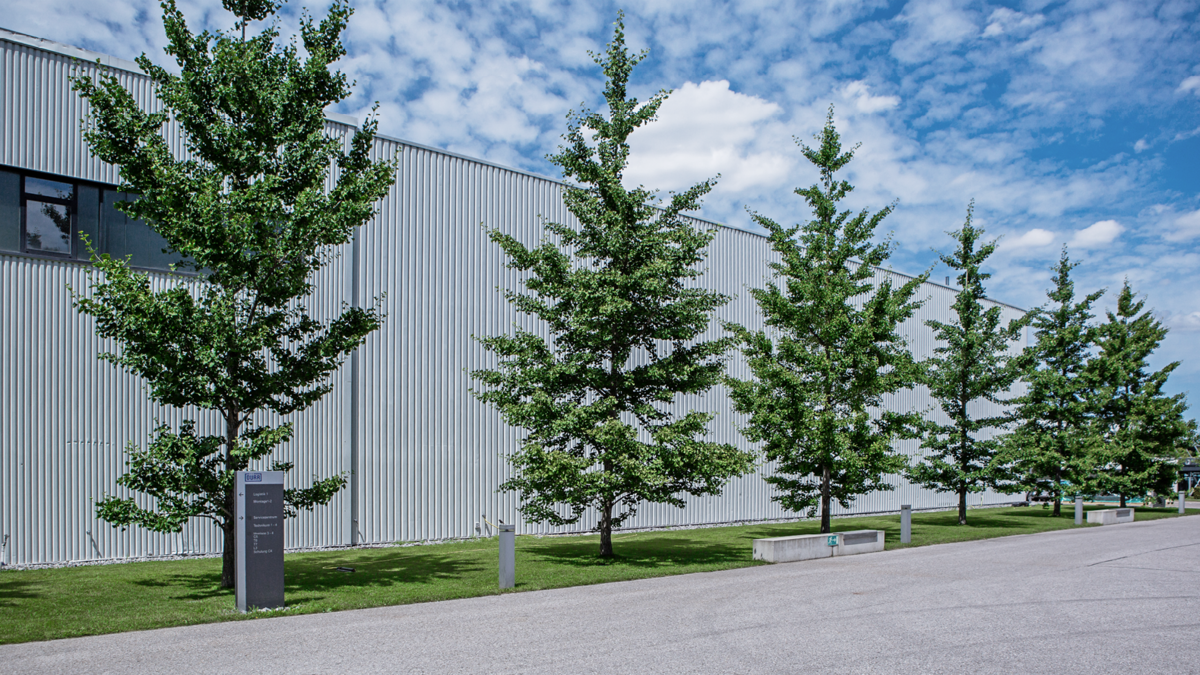 Facade of a production building at the headquarters in Bietigheim-Bissingen
Doors and gates at Dürr sites are dark gray or white. Window frames are dark gray. Metal elements are made from aluminum, galvanized steel or stainless steel. All other fittings, such as railings, wastebaskets, bicycle racks etc., are also aluminum-colored, anthracite or white.
The rooms in Dürr buildings are open, bright and modern. They are inviting for customers and guests. We provide our employees with rooms for focused work, teamwork and meetings, depending on their requirements.
The entrance area is designed to welcome customers and guests and to provide them with useful information. We recommend putting product photos on the walls.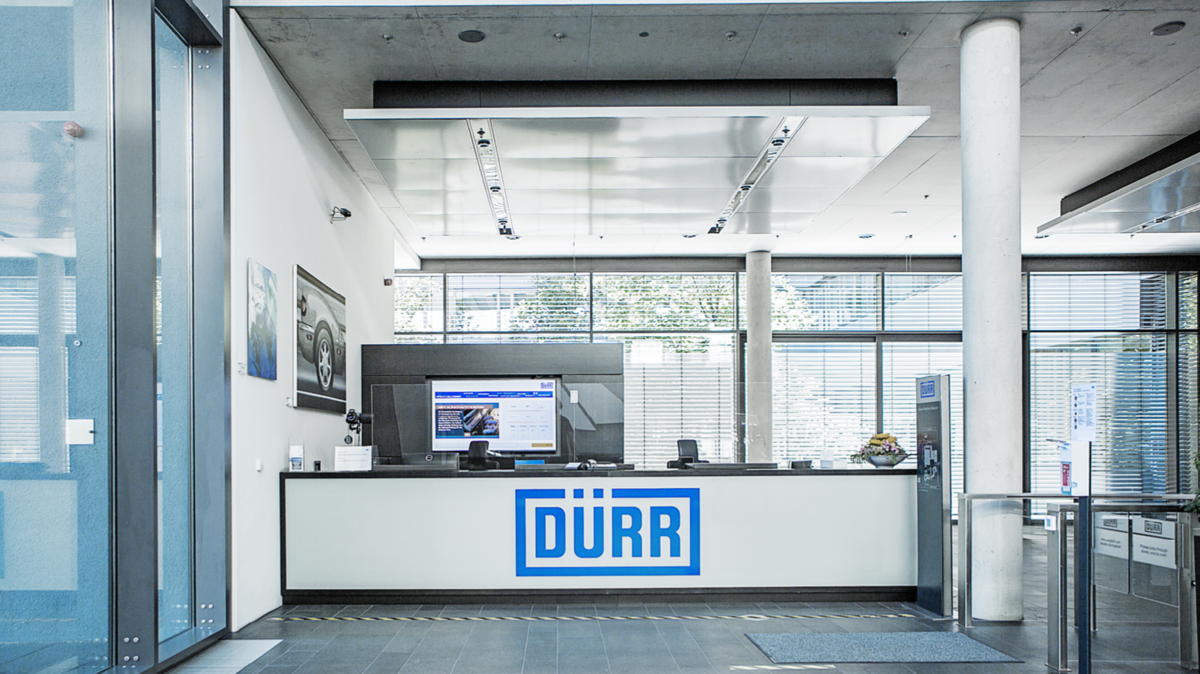 The frame of the reception desk should ideally be in black or ecru or made from light-colored wood. A Dürr logo is positioned below or behind the desk.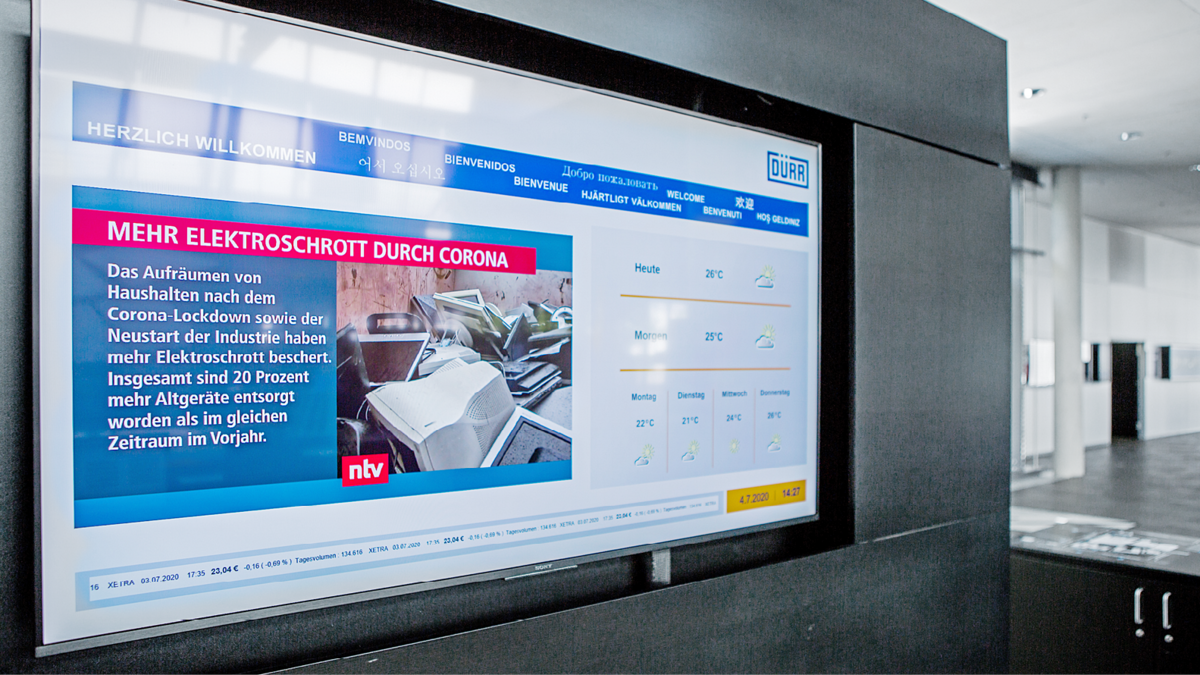 A screen with a welcome message for visitors including their full name and company name always makes a good impression. It is also possible to show the latest news from around the world, alternating photos from various Dürr business units or constantly updated stock market information.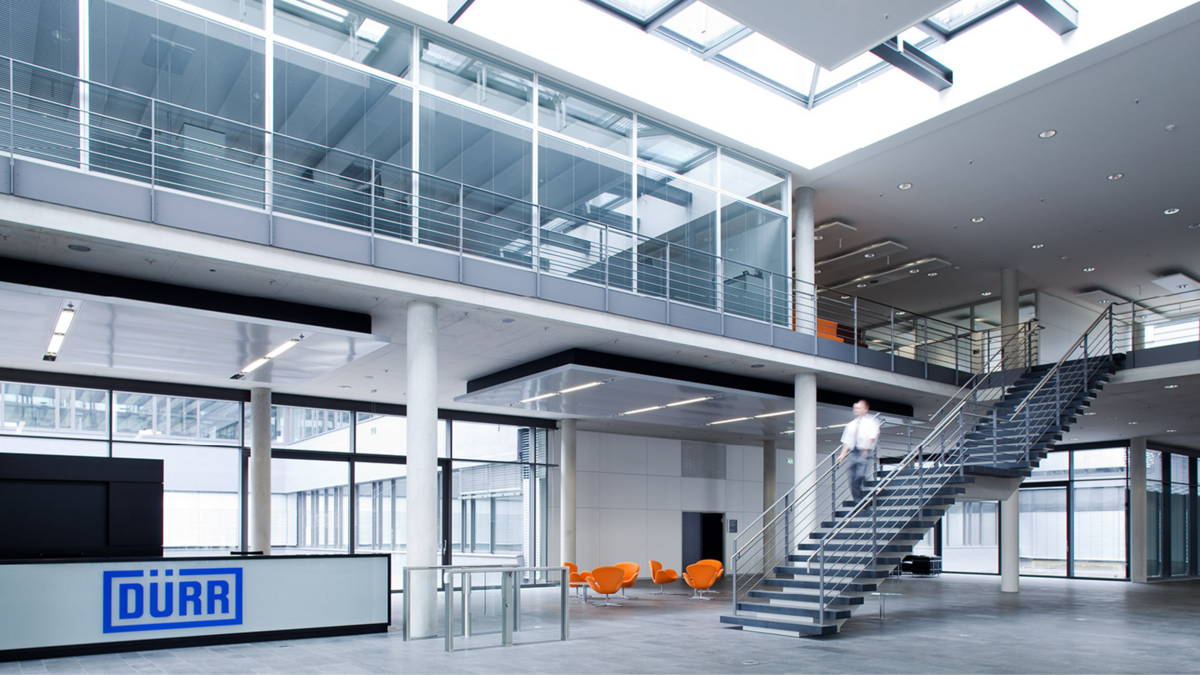 The foyer has an open and inviting design to create a positive first impression. Photo: Strähle/HuberFotodesign
Workplaces are large and spacious to create a good working atmosphere. We have private offices and also open-plan offices that are ideal for discussions and sharing ideas with colleagues. There are meeting points very nearby, with tea, coffee and water available, which are the perfect places for spontaneous conversations.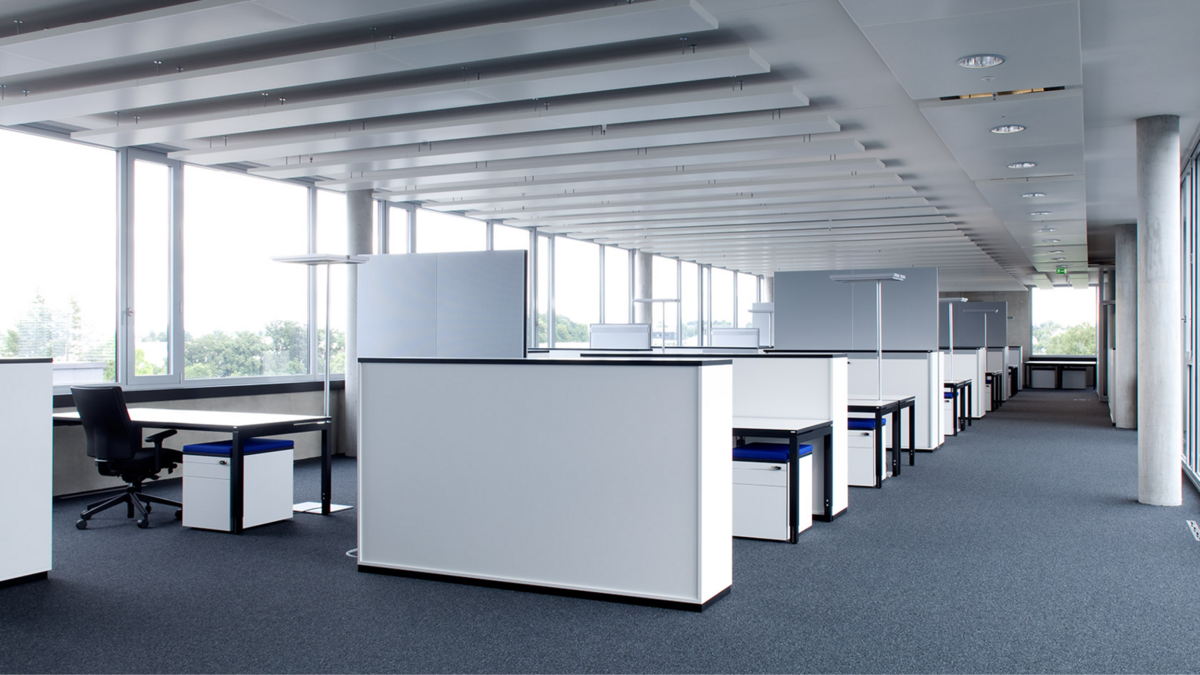 We recommend an open-plan architecture with a clear structure and sound absorbing walls. Photo: Strähle/HuberFotodesign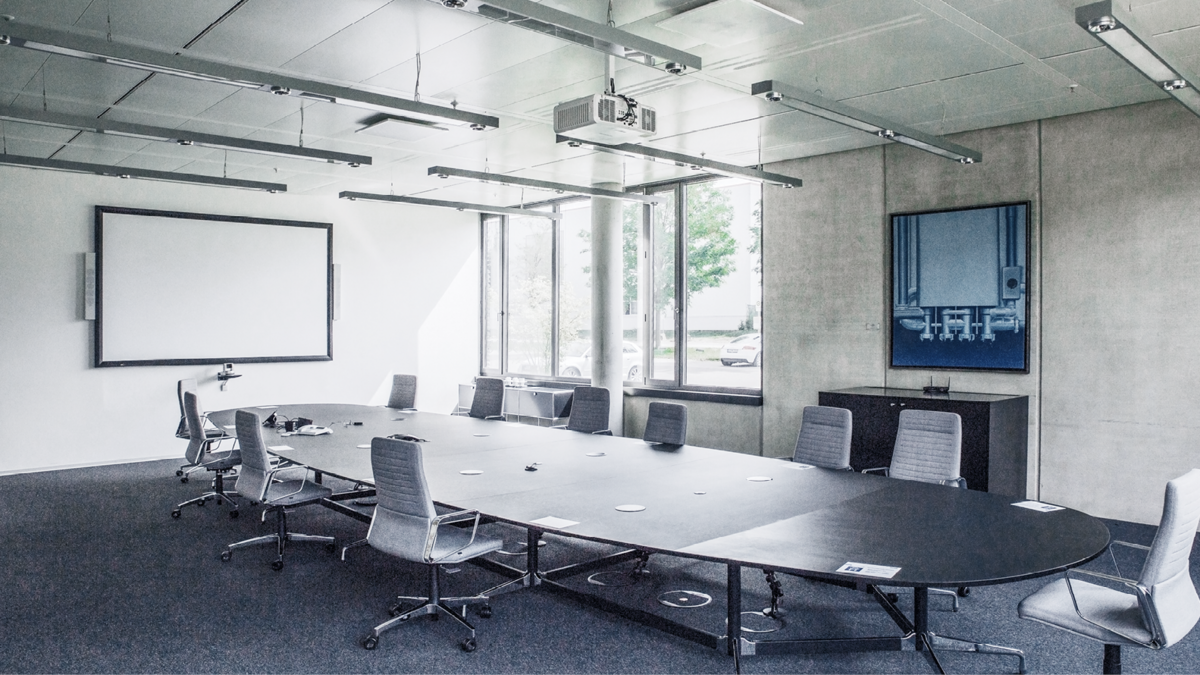 Meeting rooms should have an Internet connection (ideally wireless) and modern media and presentation systems.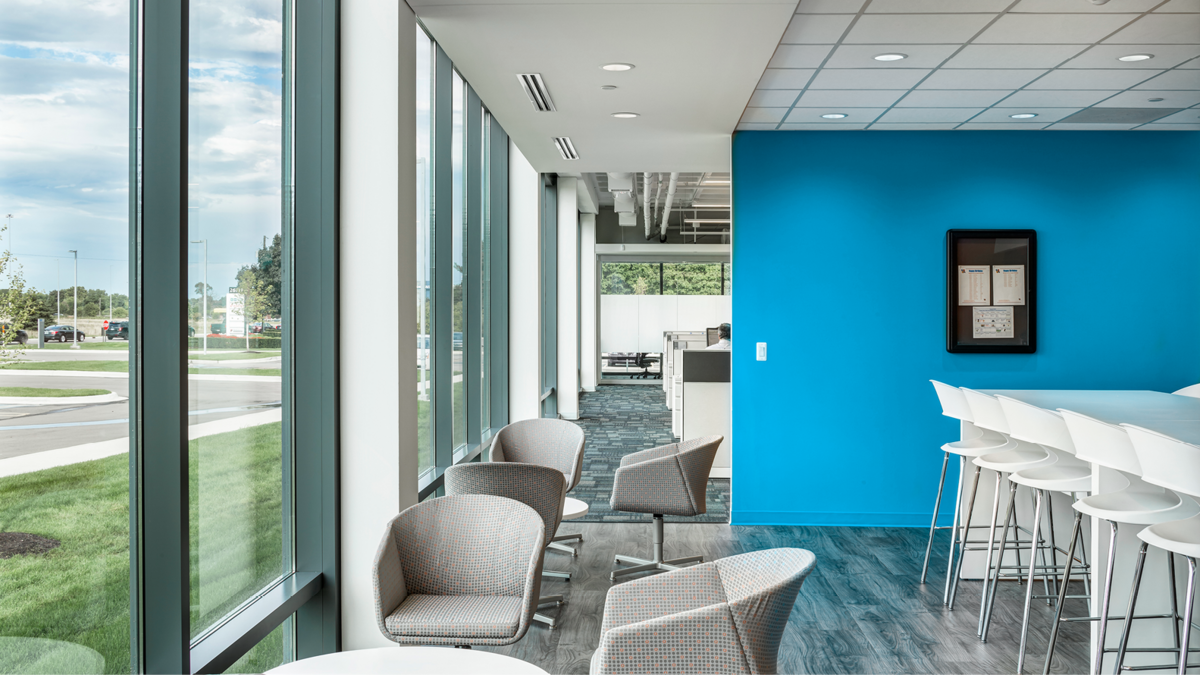 Meeting points for informal gatherings, where coffee, tea and water are available, together with places to sit and stand, are a valuable addition in sites with large numbers of employees.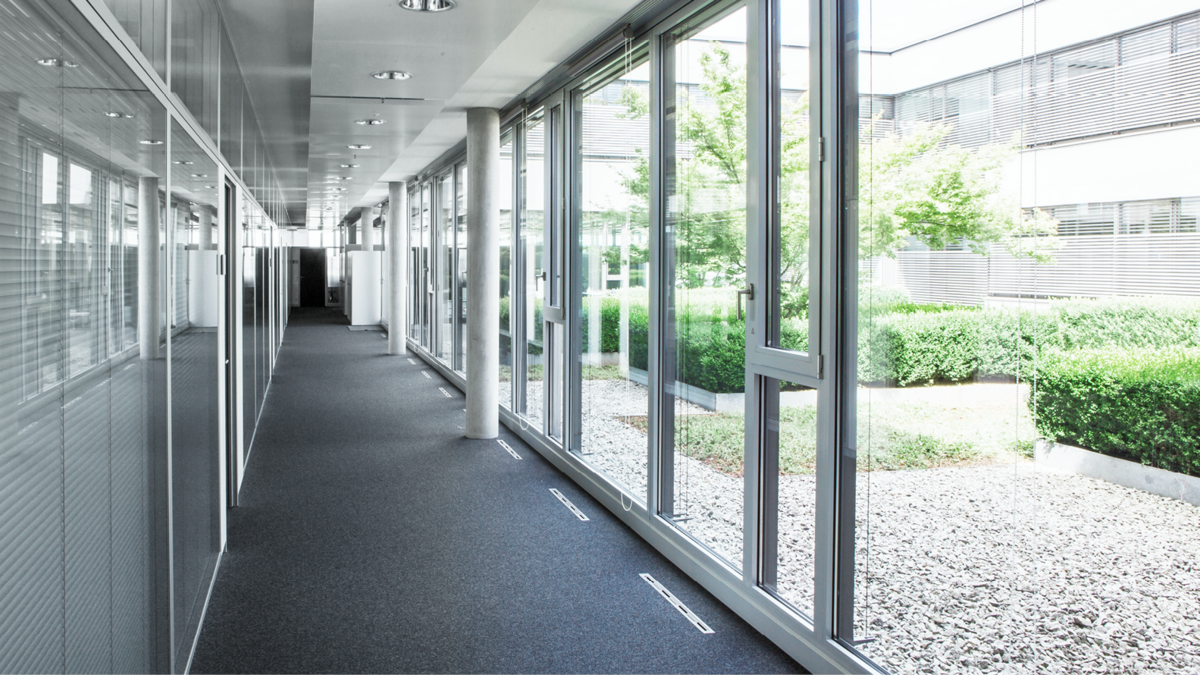 The floor should be completely covered with a hard-wearing carpet. Where there is underfloor cabling, we recommend carpet tiles. The color should be a dark gray marl throughout.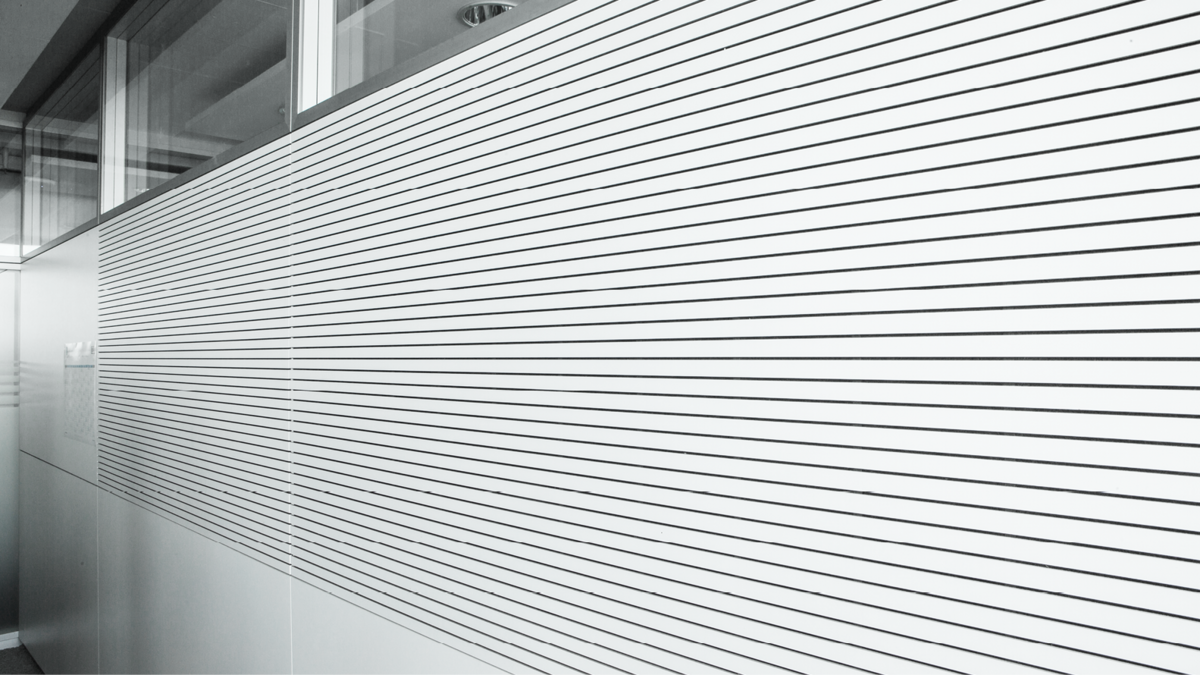 The walls must be white or light gray and can consist of wall modules. We recommend putting product photos on the walls.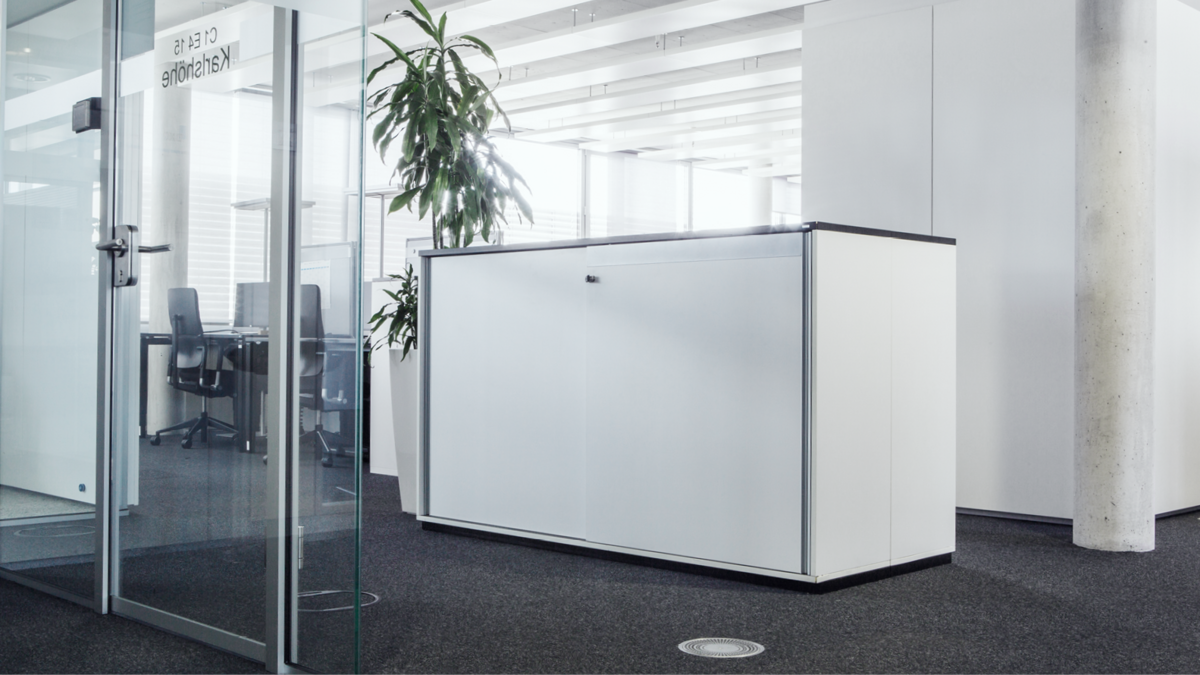 Team filing cabinets for physical documents must be easily accessible and in a central location.